Business Quoting & Purchase
Click "For Businesses" at the top of the page.

Enter the number of 'seats' you would like to purchase. You will need one seat for each employee employee you want trained. Then click Get Quote for an instant quote.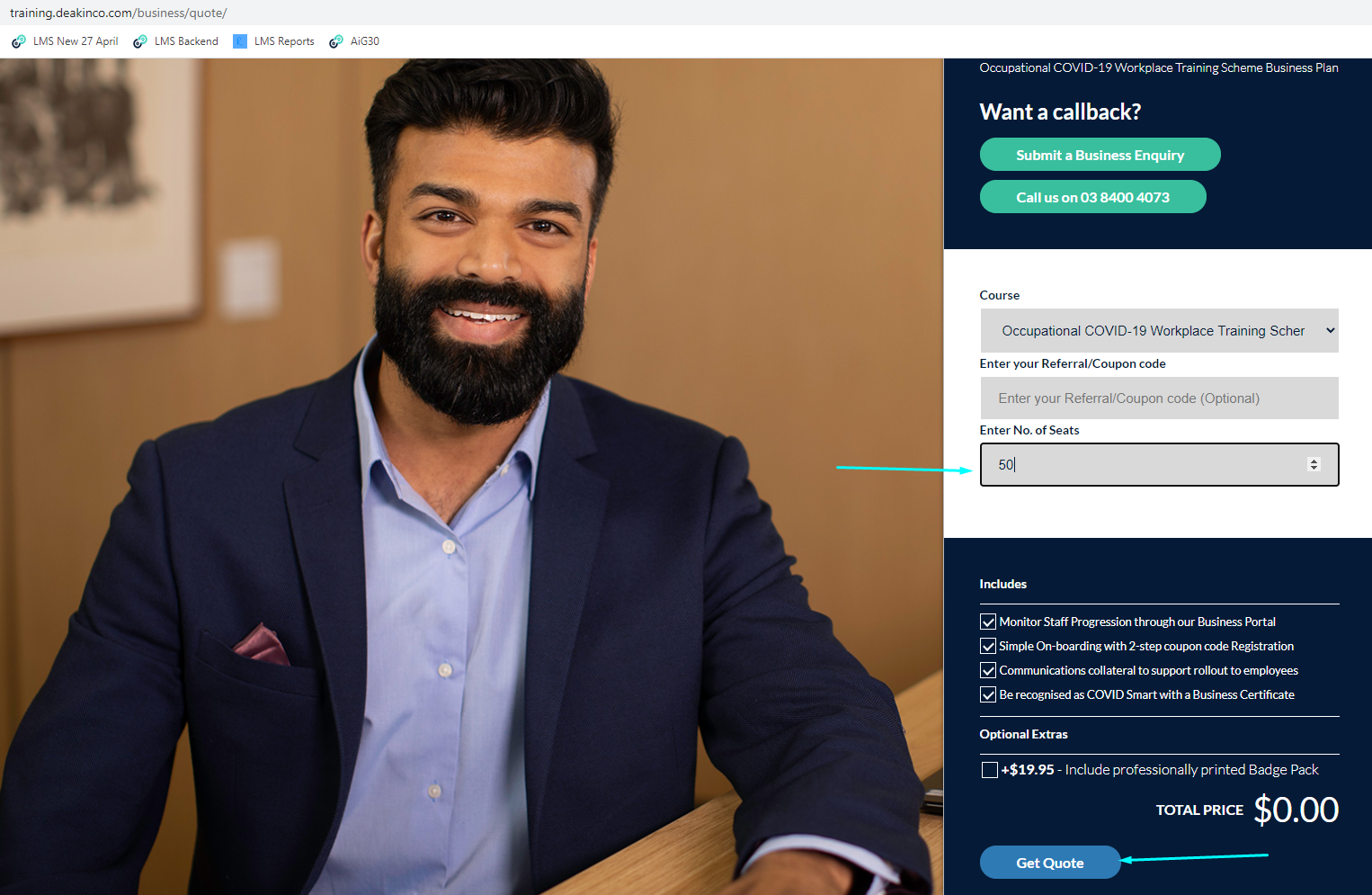 You can also choose to add professionally printed lanyards and badges with QR technology for each employee at an additional price of $19.95 per employee. Simply click the tickbox to add/remove the badge pack and the price will change accordingly. If you're happy with the price, click Proceed with Plan.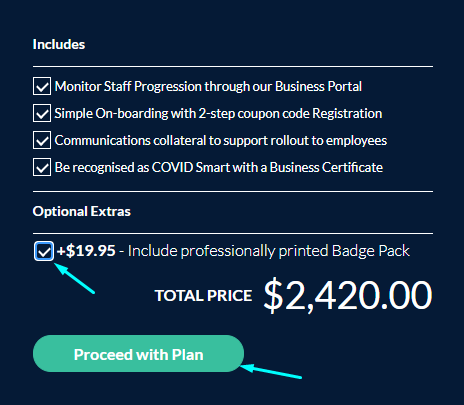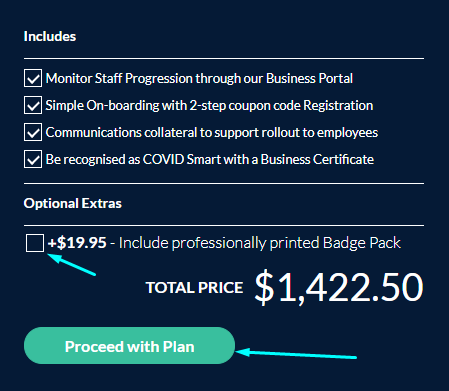 Enter your company details on the left, your details on the right, review the Terms of Service and click Proceed to payment.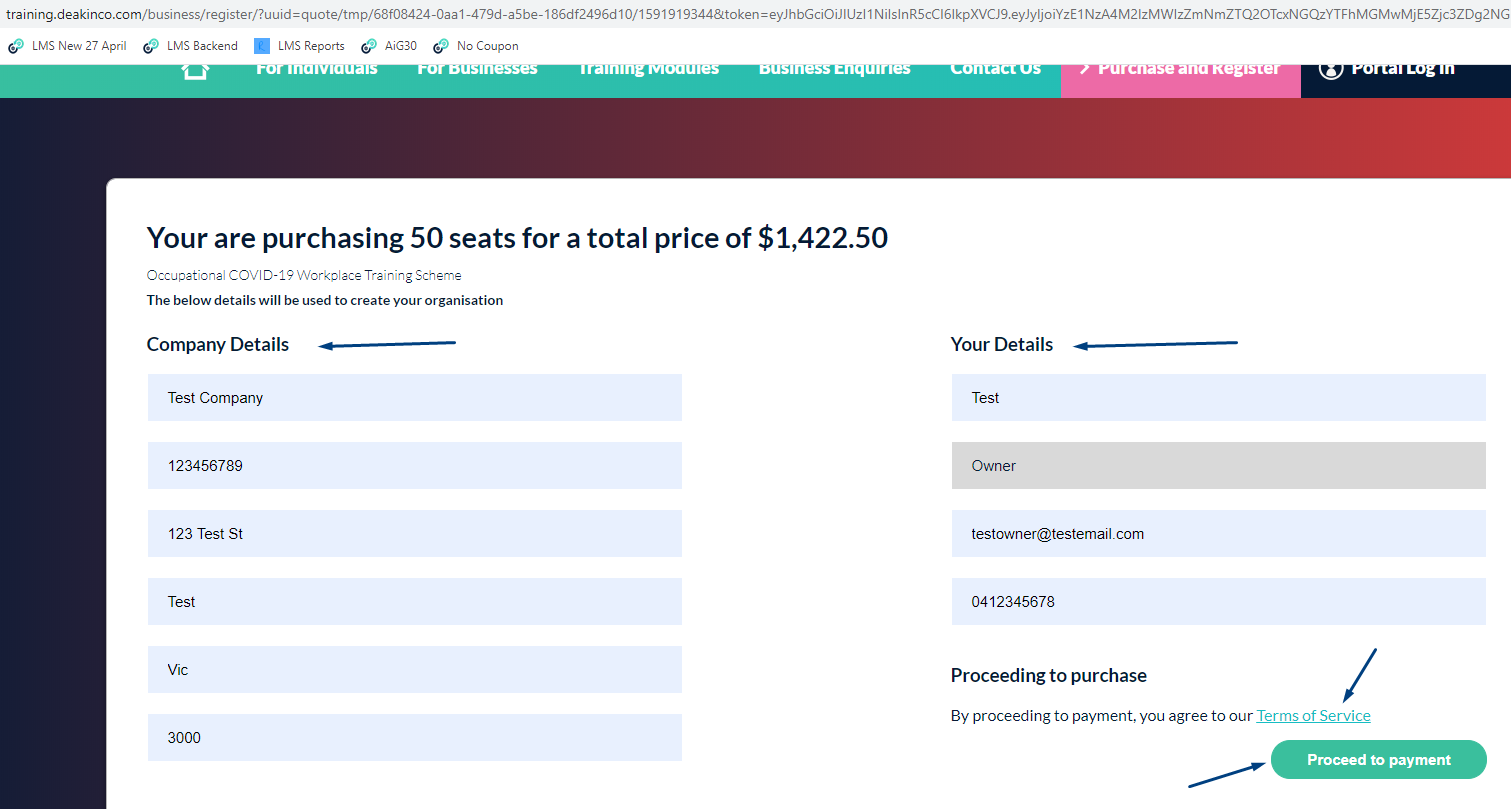 If you are paying by a credit or debit card, simply enter the card details and press complete purchase.
If you prefer to buy via direct deposit, click "request and invoice"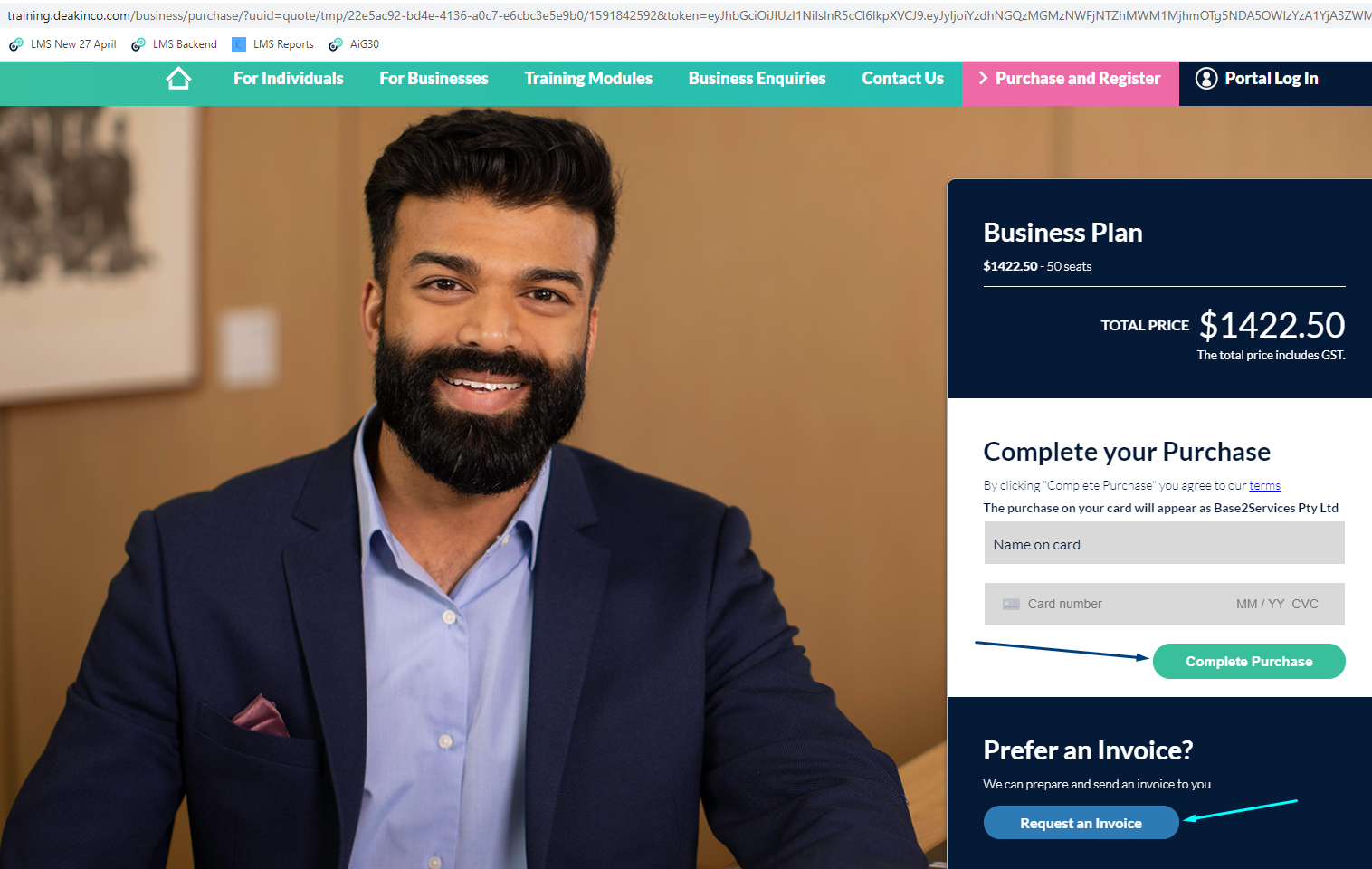 You'll need to enter your full name and email address, review the Terms of Service and accept the quote.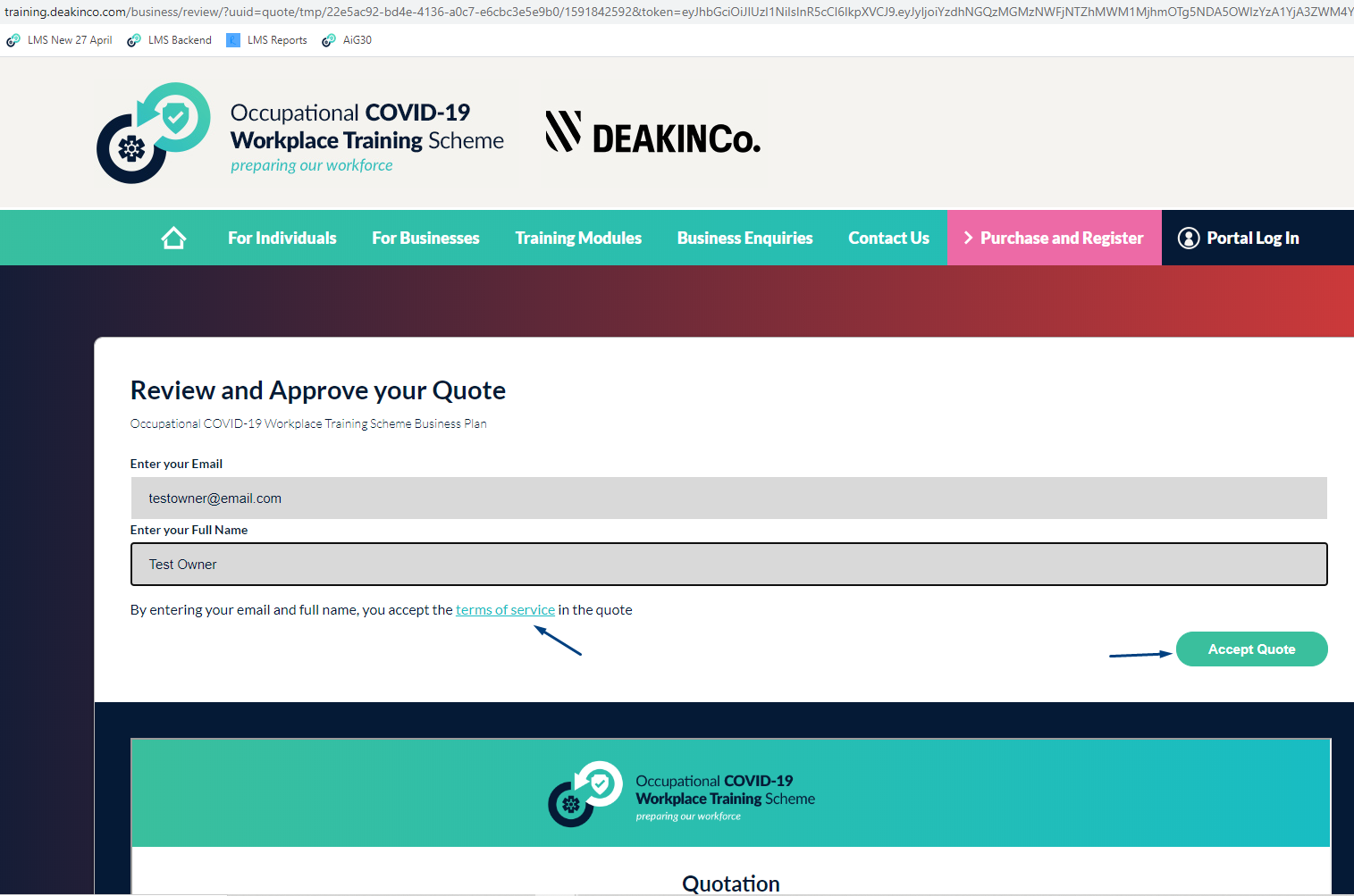 A preview of the quote is shown on that page and includes includes information on how to pay. Further instructions on how to pay will be emailed through to you once you accept the quote.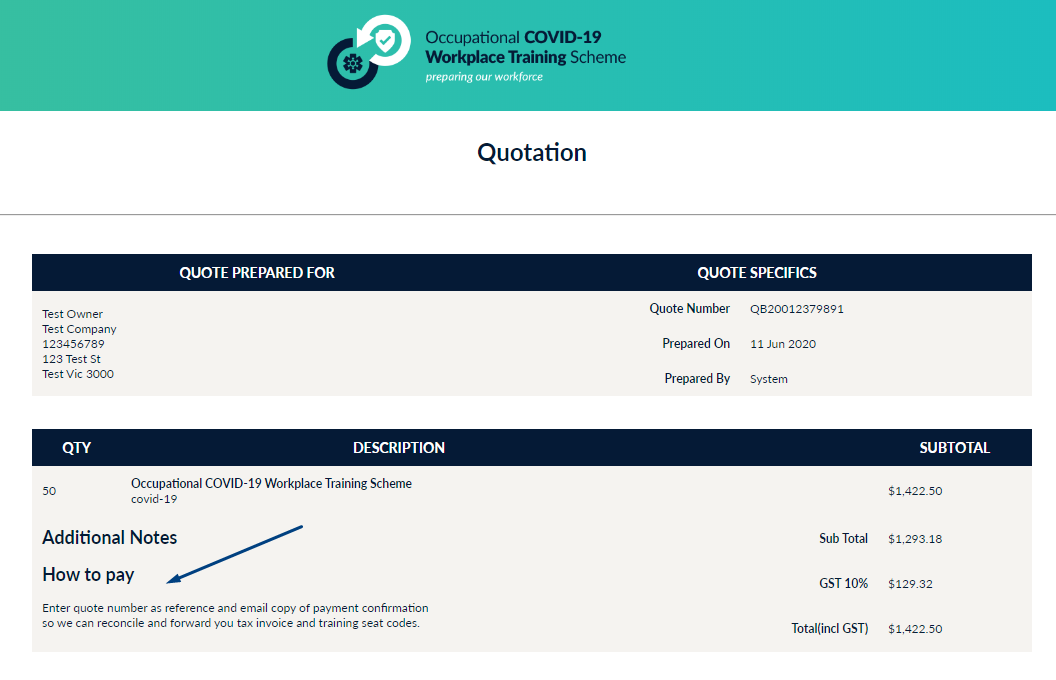 Setup Your Business Portal
Once your payment is complete you then need to set up your administrator account so you can view each employee's progress. You will also be able to access your coupon code through the business portal. Employees will need to use this coupon to register for and access their course.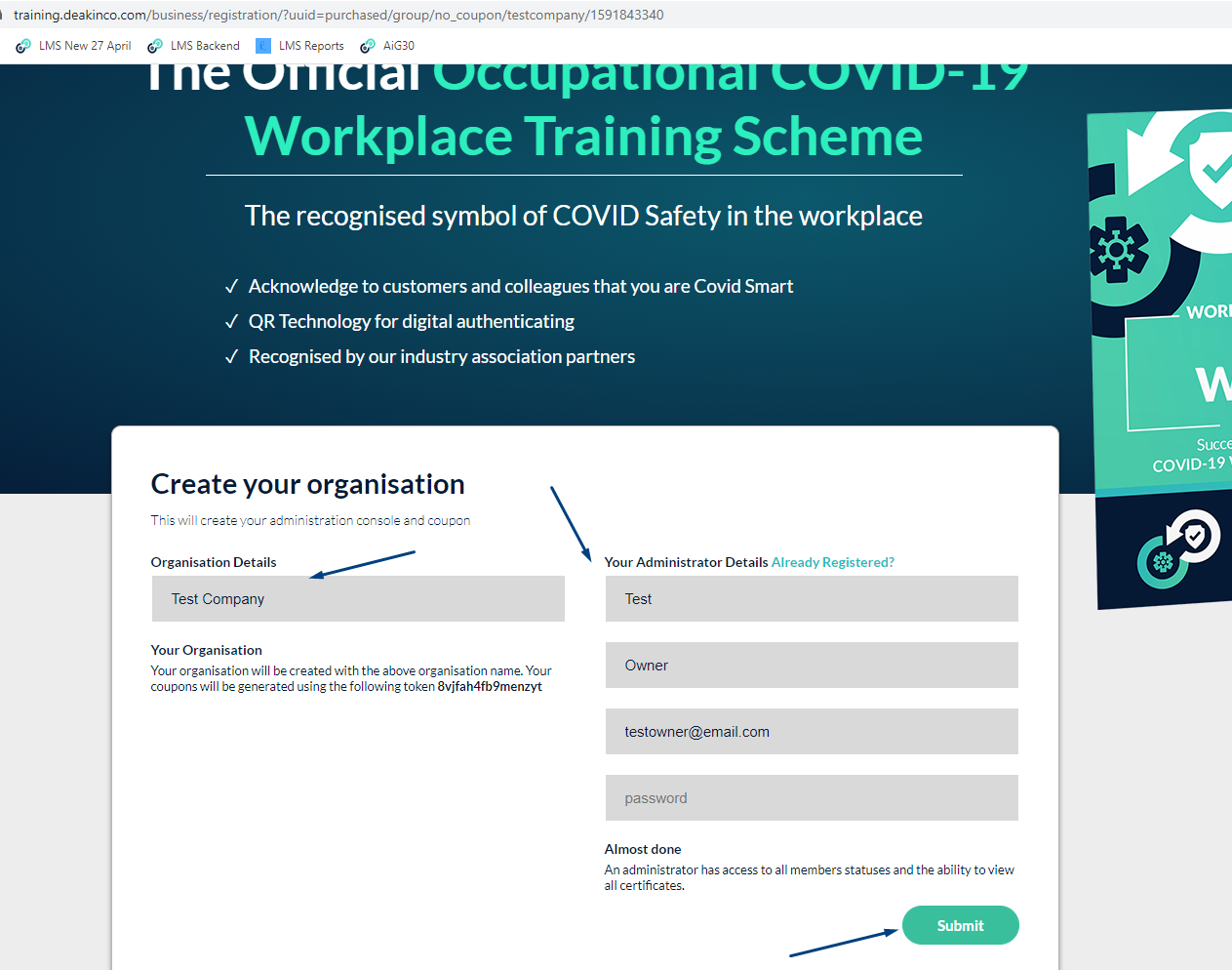 If you have paid directly by credit card, the page will pre-fill your details based on what you've entered previously. You'll just need to create a password for your administrator account and press submit.
You'll then be directed to the Business Portal administrator page.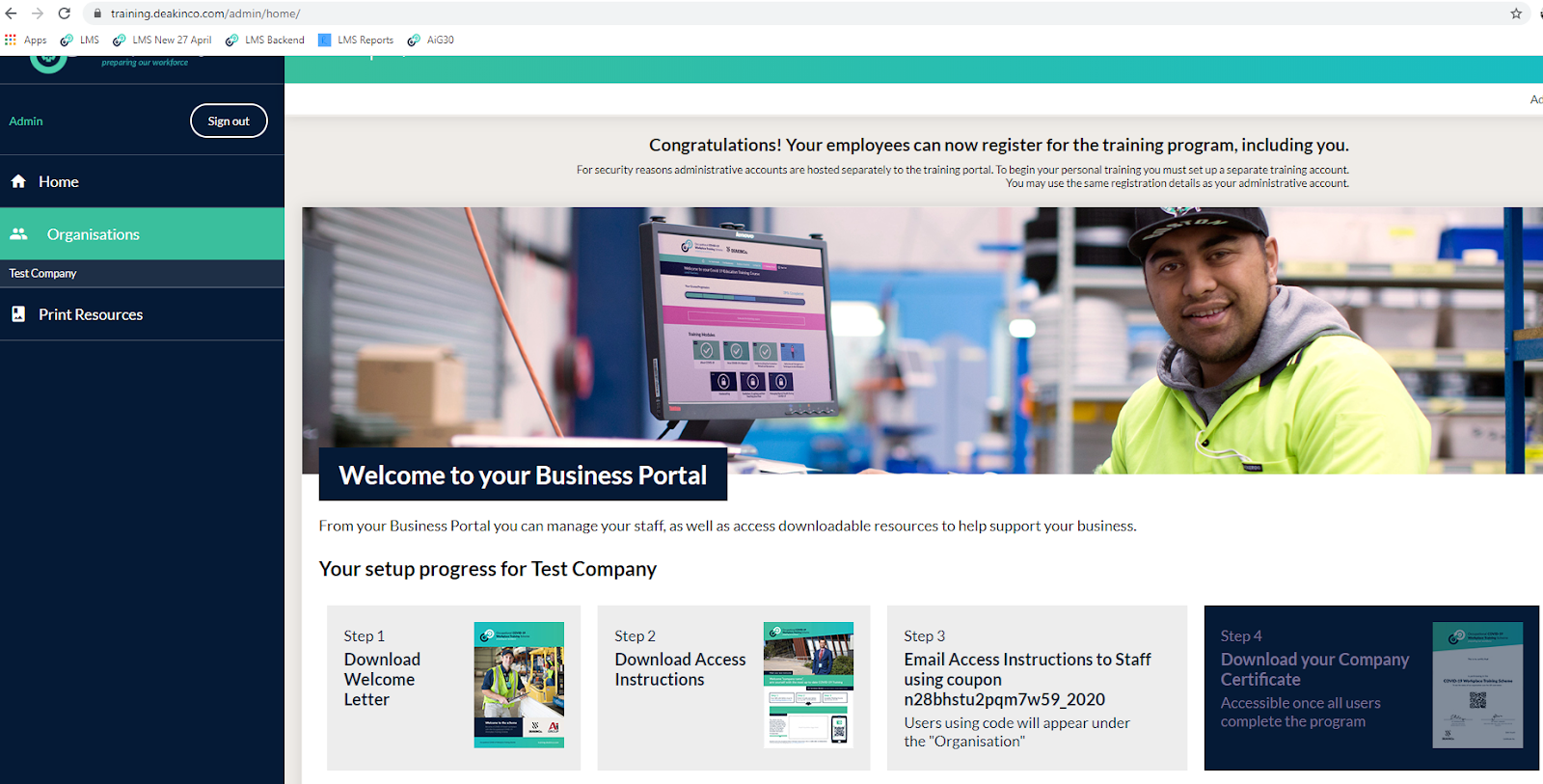 Follow the steps to complete the set up process for your organisation. Step 1 shows a Welcome Letter with some general information about the program.

Step 2 is a very important document, and one that you'll want to download as this is the instruction guide to email to your employees (Step 3). It shows them how to register for the course and includes the unique company code they'll need to enter when signing in to link their account to your organisation. If they don't use the coupon code, you won't be able to view which of your employees have registered, started or completed the course. It will also mean they'd have to pay for it as an individual user rather than using one of the seats you've purchased for them.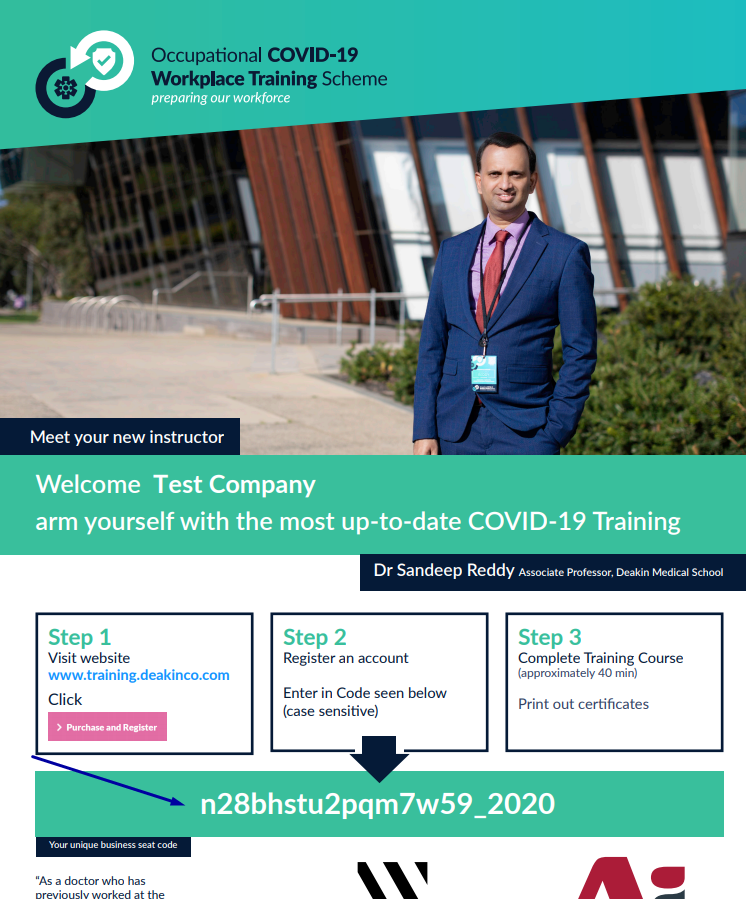 If you wish to complete the course yourself you will also need to register as a user for the training program. The following section outlines the 3 steps to create an account.
Employee Registration & Accessing The Course
Visit www.training.deakinco.com and click "Purchase and Register".

Scroll down to enter your details to create your account. You can use the same email and password as the administrator account you just created if you'd like to. Once you've entered your details, press Register.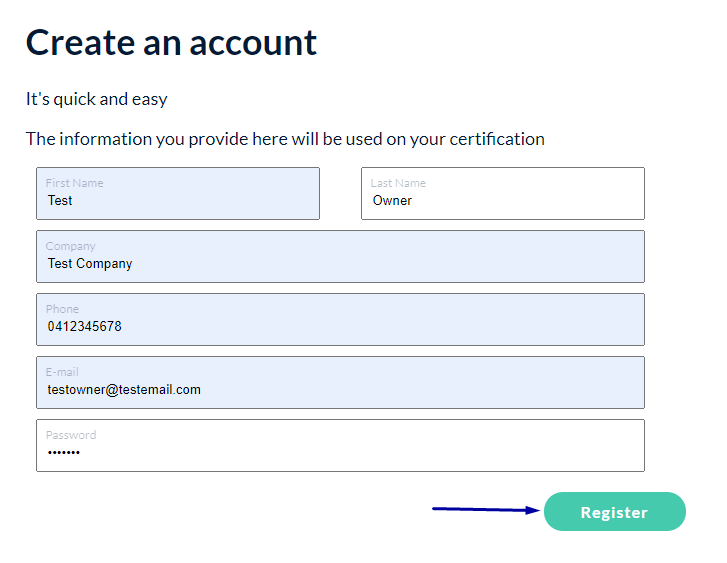 Once you have registered your account, the website will prompt you to purchase the course as an individual. This is where you'll need to enter your unique company coupon code in the box next to the price.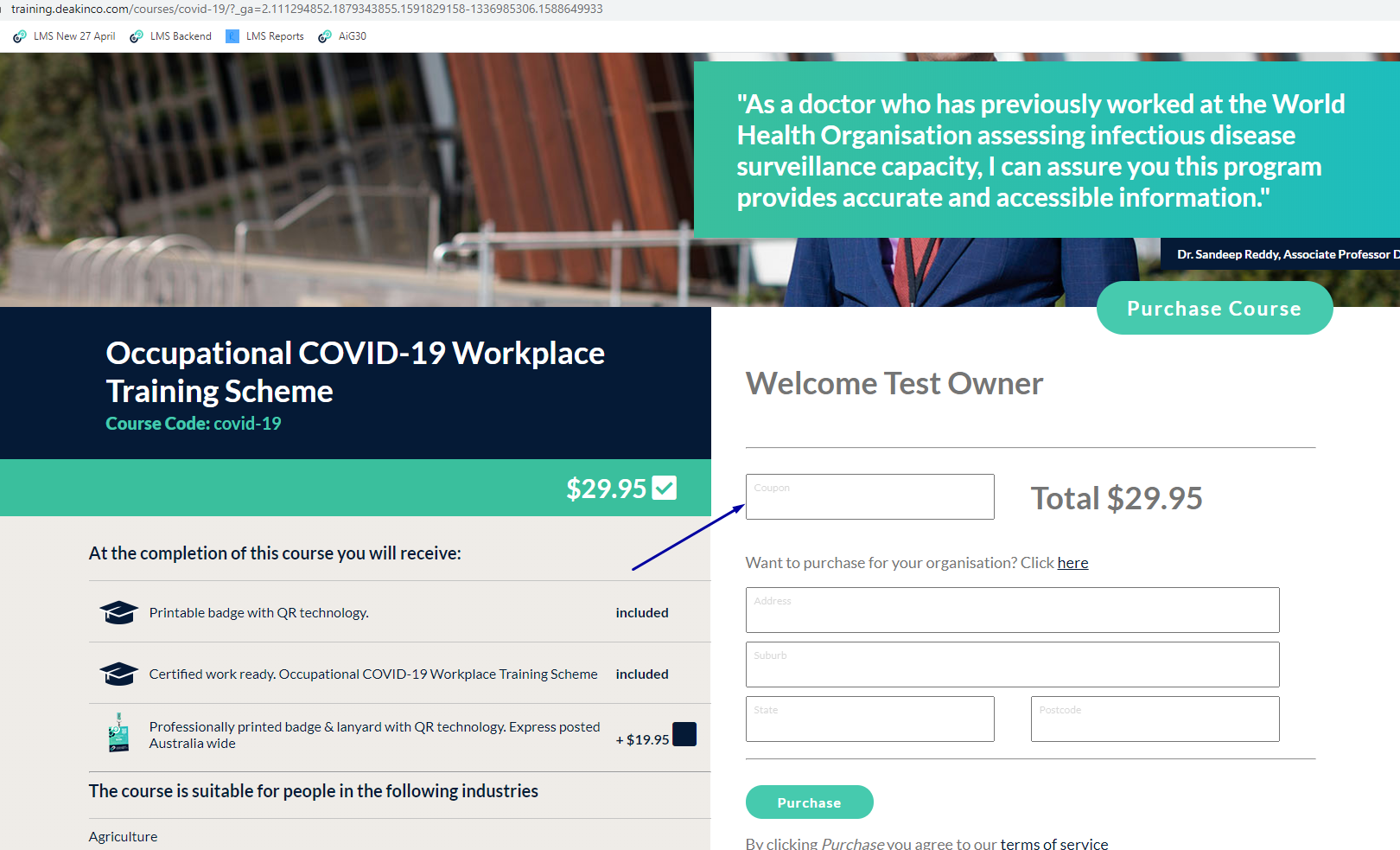 As soon as you enter your coupon code, the price will show as free. You can then click "Purchase Course" at the top or "Purchase" at the bottom of the text boxes. If you have chosen to receive a professionally printed lanyard pack for your employees then it's important you enter your company address details. If not, you can choose to skip adding your postal address if you wish.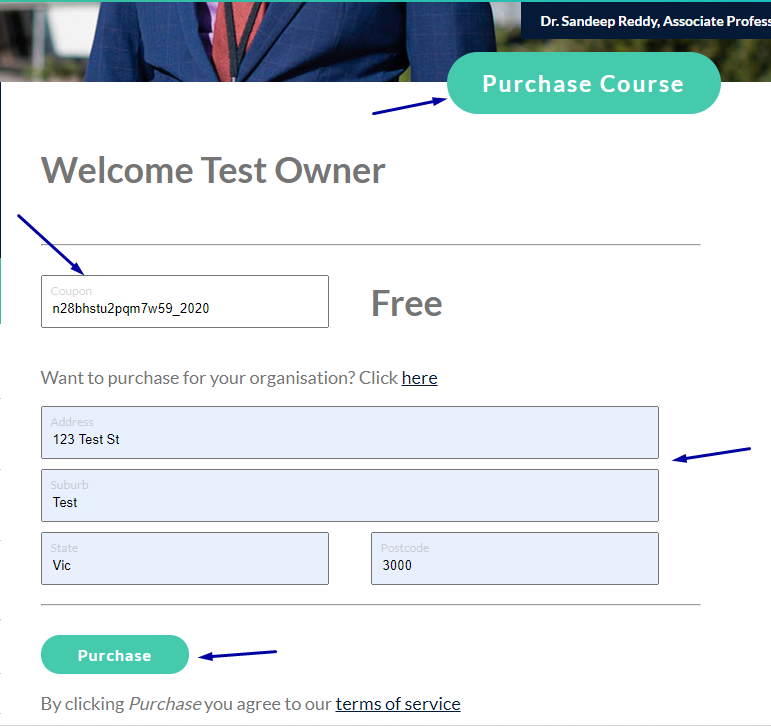 After you click "Purchase" the website will automatically log you in and you can begin the course at any time by clicking "Start Course" or the big play button next to Module 1. You'll need to complete the modules in order. The later modules will only be made available once you've completed the earlier modules.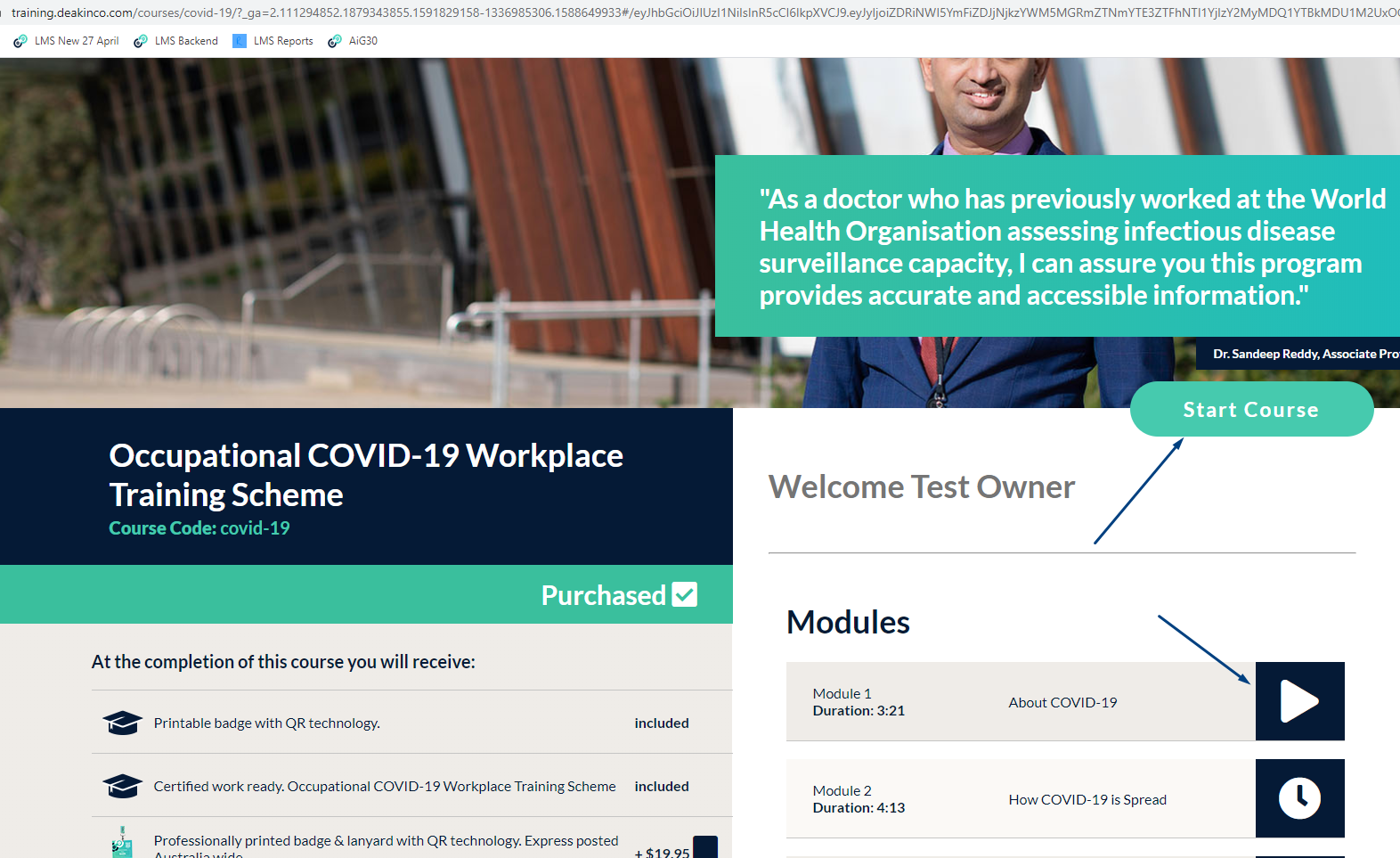 The course will take approximately 40 minutes to complete. If you don't have time to complete the course in one sitting, you can log out and log back in when you're ready. The program will save your progress after you complete a module. So, make sure you finish the module you're working on before exiting the browser, otherwise you'll need to start that module again.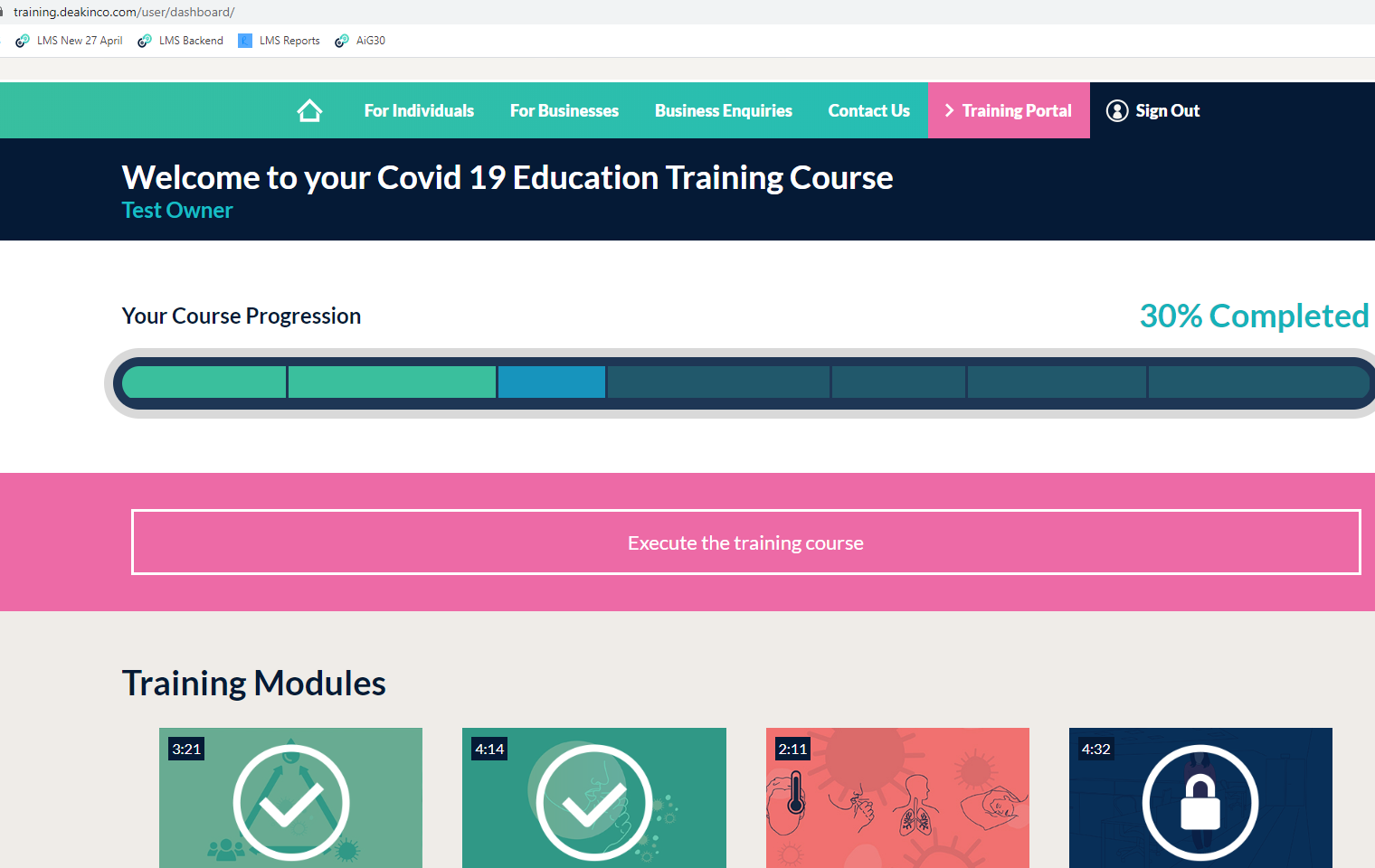 Once you have completed the course you can download your printable badge and certificate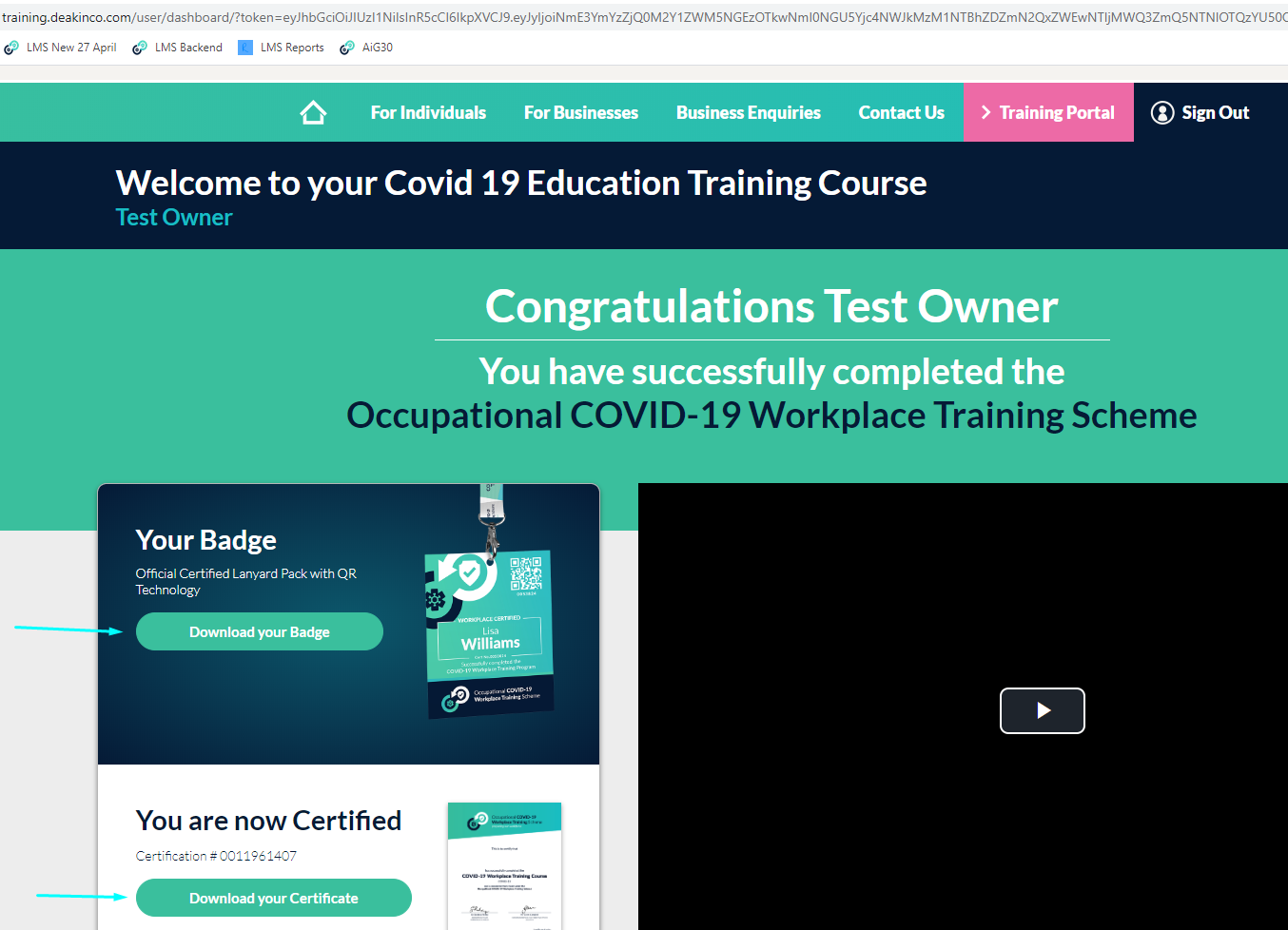 Business Portal Log In & Use
To access the administrator business portal log in, please visit www.training.deakinco.com and click "Portal Log In"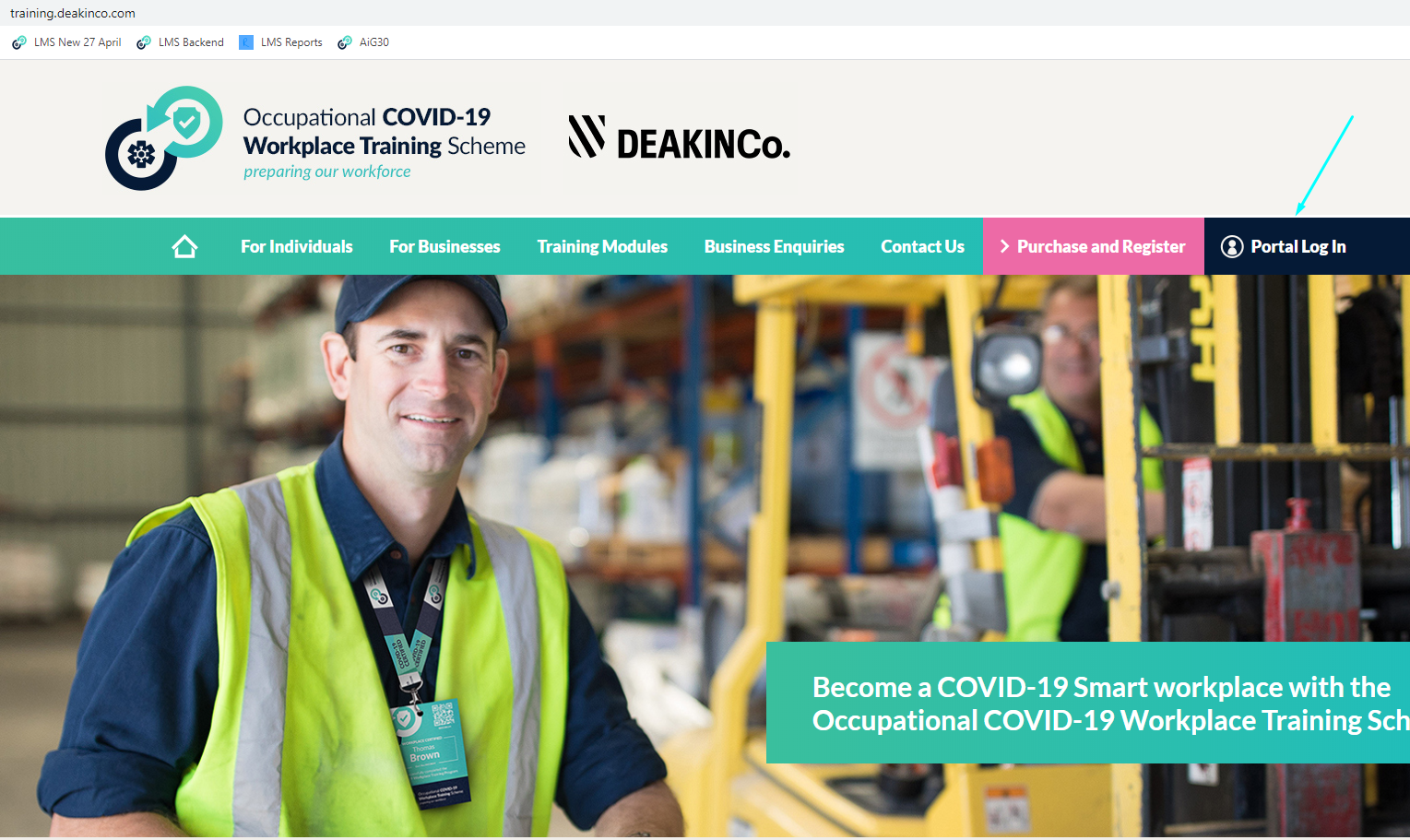 Look inside the navy box and click "Login here" next to Managing a business?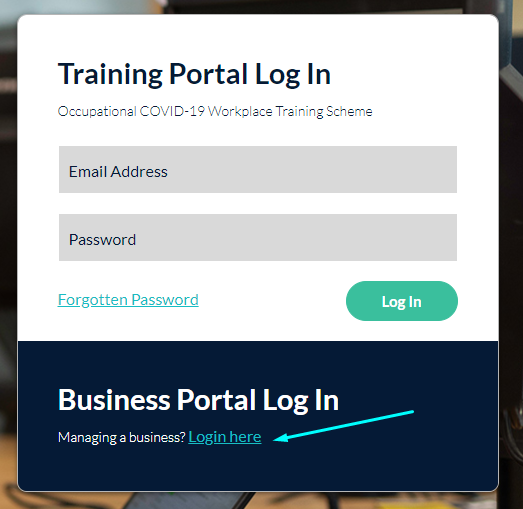 Enter your administrator account user name and password and click Log In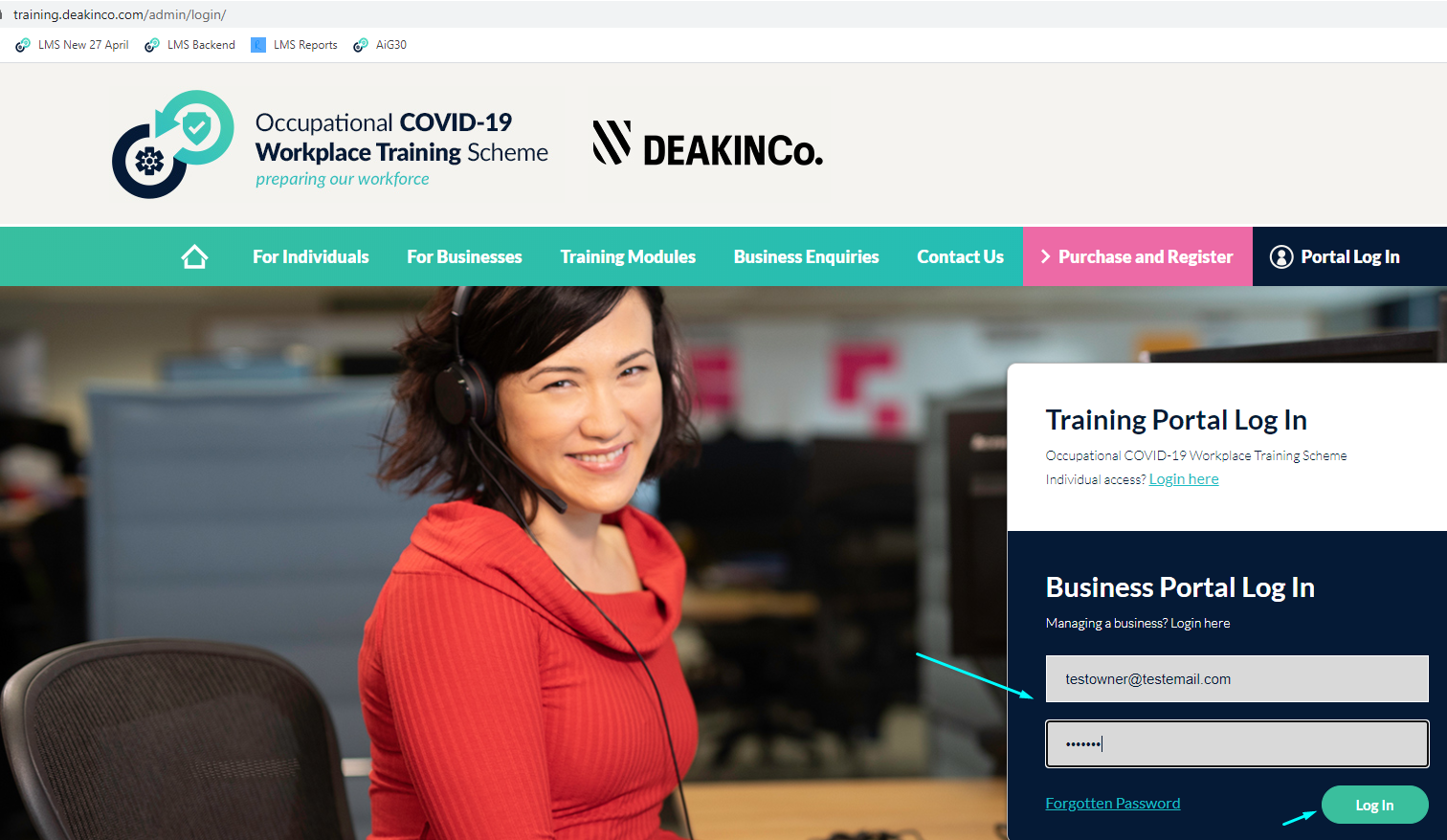 When you log back in, you'll see your company name and coupon code.

On the left of the page you'll see your company name under "Organisations". Click your company name to see which members of your organisation have registered to complete the course.
To view which of your employees have created an account, started the course or have completed the training, click on your company name, either via the company name shown in the white area under organisation, or via the navy column on the left as shown below.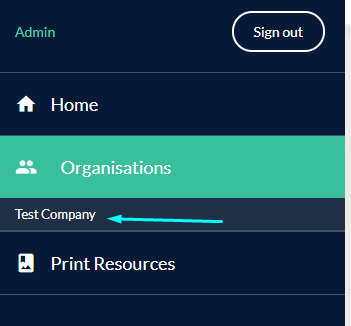 Another helpful hint for you is to visit the Print Resources page via the navy column on the left to view some downloadable posters that you can print and put around your workplace.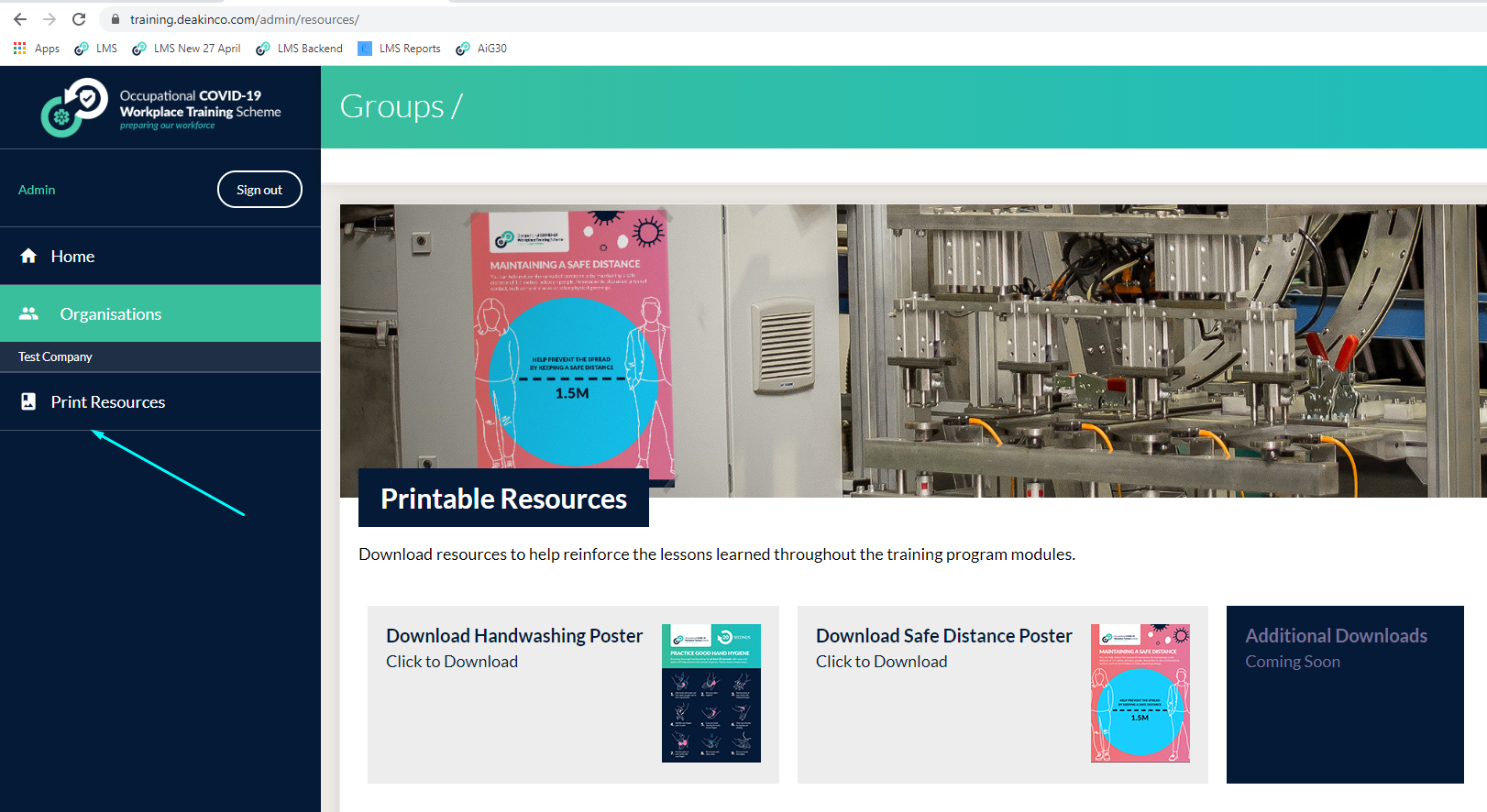 In the members page you can see which of your employees have registered for the training. Out of the employees that have registered you can also see who has completed the course as well as view their certificate and badge by clicking on the little icons next to the tick.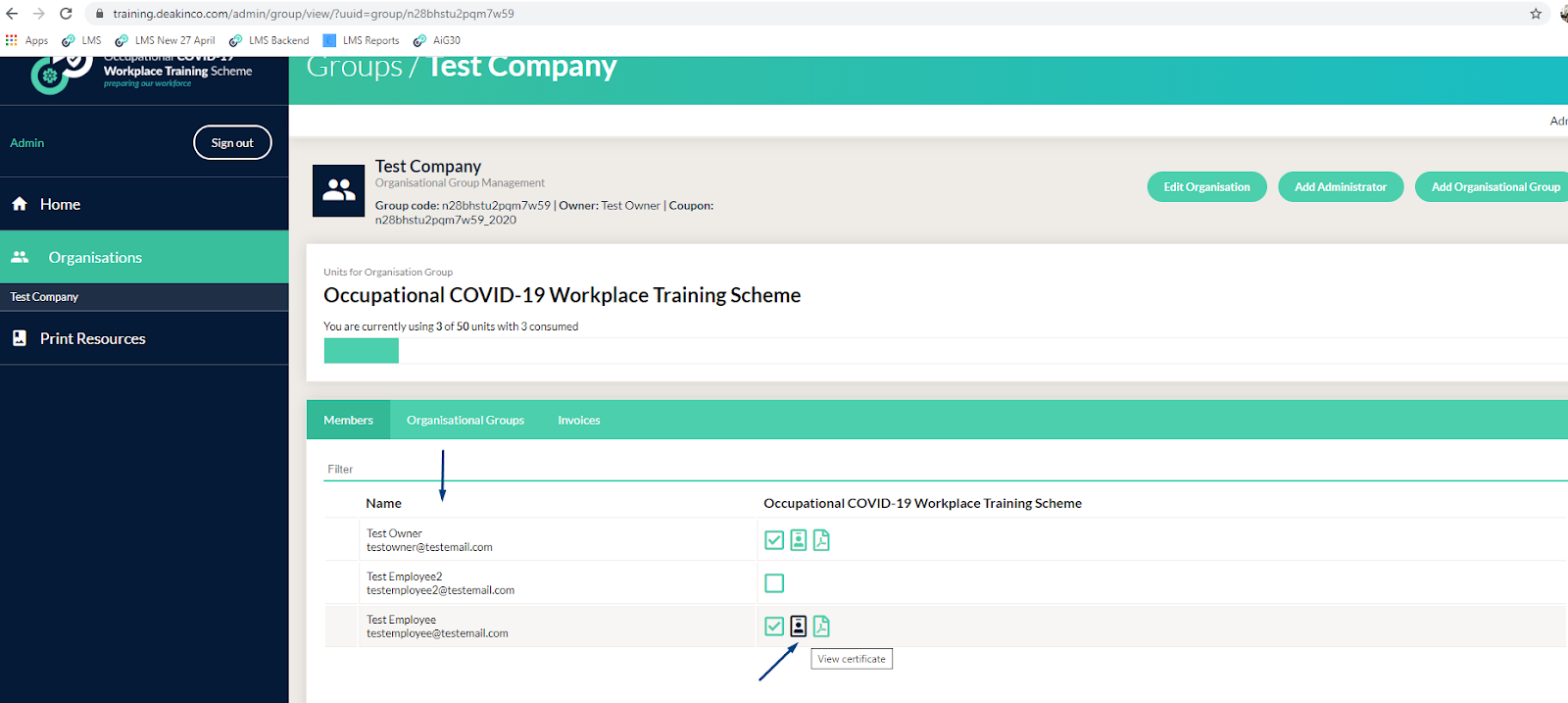 The top of the screen here shows you how many seats that have been used with the company coupon out of the amount you purchased